Qualification
By the introduction of the current building regulations, new and responsible tasks are being assigned to the expert for fire protection.
He can fulfill this responsibility only if he has a well founded training as well as professional experience of many years.
The responsible expert only acts according to the technical conditions, he is impartial and independent in his action. A constant advanced training and further education is a natural course of action and it is indispensable. Advancements in the fire protection technique, the European standardization as well as new guidelines and rules force the expert to have a lot of competence and specialized knowledge.
Training and competences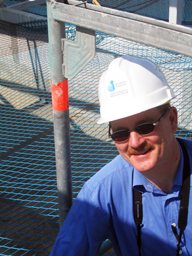 German Abitur (approximately equivalent to the British A level and the American SAT exam)

Gesellenprüfung (examination at the end of an apprenticeship) as a carpenter

Mastership examination in the trade of a warmth-cold-sound-absorbing-isolationist with emphasis on:
dry construction and fire protection at the HWK- school in Frankfurt

Study of civil engineering at the FH (professional school of applied sciences) in Mainz

Further training as an expert for fire protection by participating on seminars of the VDS, the University of Kaiserslautern: Prof. Wolfram Becker, chamber of engineers in Rhineland- Palatinate and Hesse, fire protection days in Braunschweig

Temporary lecturer at the FH (professional school of applied sciences) in Mainz for the master course of studies "Facility Management"

Proof-entitled for fire prevention according to the Hessian building regulations